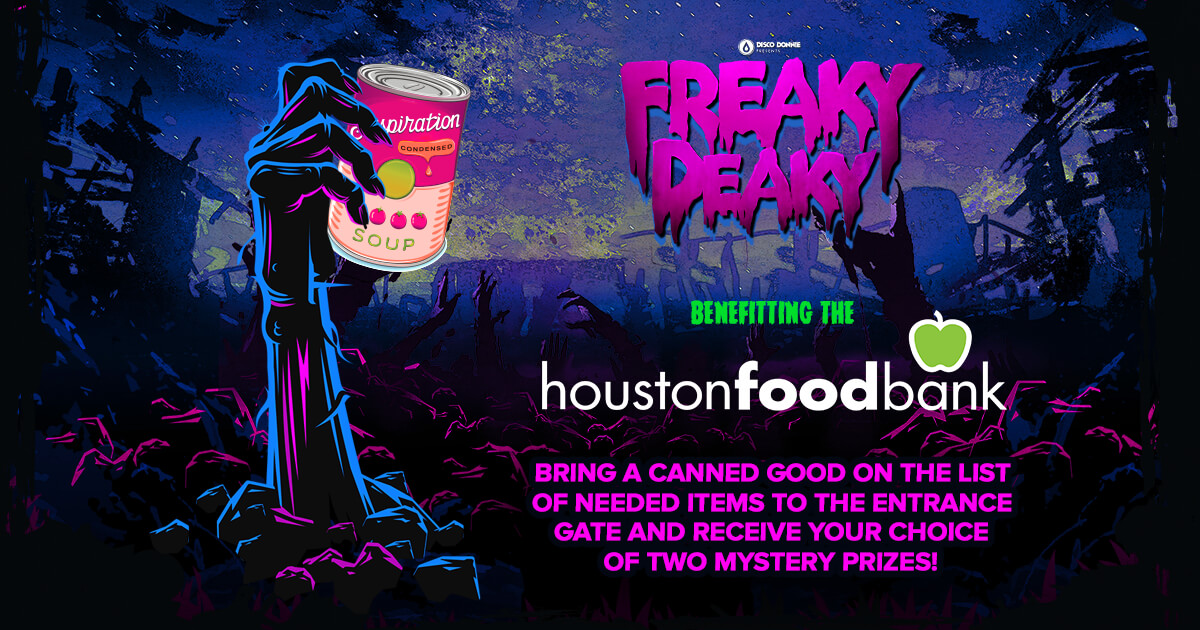 This year at Freaky Deaky, embrace the golden rule that it's always better to give than to receive. Through our official charitable partnership with The Houston Food Bank we're encouraging Freaky Deaky fans to give help Houston's populations who are in need.
On both days of the event, Saturday, October 26th and Sunday, October 27th, we invite you to donate non-perishable items to our food drive. After all, giving back does have its rewards. Those who contribute to the food drive will earn a mystery prize!
You'll feel good about helping those in need, and although only one item is required, we encourage everyone to bring more.
Suggested Donations
Permitted items for the food drive consists of non-perishables such as canned goods. Canned essentials include soup, beans, vegetables, fruit, meat, jars of peanut butter, bagged rice, baby formula, baby food, etc.
Protein

Meat Stews with Vegetables
Canned Chicken or Tuna
Vienna Sausages
Canned Beans
Canned Ravioli
Canned Spaghetti with Meat Sauce

Fruits

Canned Fruit packed in 100% Juice or light syrup (i.e., Mandarin Oranges or Peaches)
Canned Applesauce

Vegetables

Canned Green Beans, Peas, Carrots, Spinach, or Corn

Grains
Healthy Snacks

Yogurt Cereal Bars
Fruit filled Cereal Bars
Pretzels
Graham Crackers
Granola
Dried Fruits
Fruit Snacks
Trail Mix
Peanut Butter

Dairy
Additionally, Freaky Deaky is also accepting online contributions to the Houston Food Bank.
Mystery prizes are only available to people at the event with a valid Freaky Deaky ticket who are eligible for entry into the event according to DDP's policies. People who donate online are not eligible for mystery prizes (but we are grateful for your support, you're awesome). A limited number of mystery prizes will be distributed at the event only to qualified recipients on a first come first serve basis. When we run out of mystery prizes, you'll still receive our gratitude for helping fill the shelves of the Houston Food Bank. Mystery prizes are a small token of our thanks and not an exchange. The mystery prizes have no commercial value, their value is mysterious but most likely zero.